List of the best food hashtags to use if you are a food blogger and some tips
Instagram is definitely the social network with the biggest growth in recent years with over 600 million active users worldwide and more than 11 million in Italy, its success is due to its power of the visual, of the images and of its communicative impact much stronger and more immediate than other social networks.
Instagram is loved in every sector, from fashion to travel, entertainment to food, for this reason it is a tool that must be taken into consideration if you are a food blogger and you want to be successful.
Having a cooking blog is not enough to break through, today you have to be present on social networks and do it in the right way, knowing how to use every aspect of these communication tools can make a big difference in the climb to success.
In fact, it is not enough to post everything you prepare or eat on Instagram to get good feedback, you have to focus on the quality of the photos by exploiting the potential of your smartphone and on the use of specific hashtags.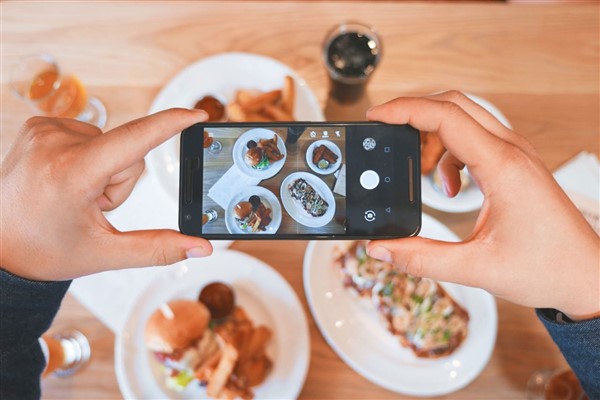 Not sure what are the best food hashtags to use on Instagram ? No problem, here are some suggestions that will help you get more visibility and interactions, leading to an increase in followers.
THE BEST FOOD HASHTAGS FOR FOOD BLOGGERS
If you are a food blogger or a food lover, to get more visibility you will have to use the right hashtags, but before telling you the most used ones in the food sector, for those who don't know what they are or simply don't use them , let's briefly explain what hashtags are.
The hashtag is a type of label used by some web services and social networks as a thematic aggregator, its function is to make it easy for users to read messages related to a specific topic or content.
In the world of cooking and food there are tons of hashtags, but as with all areas, there are some that work better than others, ensuring greater feedback and success.
Do you want to get lots of likes and followers on Instagram? Here are the best hashtags on food.
#food #foodporn #yummy #instafood #foodie #delicious #homemade #foodstagram #eat #pizza #sushi #instacake #instaphone #food #cucina #gnam #foodblogger #foodblog #Ilovefood #instamood #instagood #bestoftheday #instalike #picoftheday #photooftheday #foodart #tasty #delicious #foodgasm #foodpic #eat #eating #yum #instadaily #igers #igersoftheday #sharefood #thebestfood #foodzie #foodstyling #foodlove #foodpost #foodphotooftheday #sogner #swunch #sweet #breakfast #foodism #foodaddiction #foodpassion #foodlovers #ilovefood #ilovecooking #foodtrend #cooking #recipe #hungry #food #cucina #recipe #foodie #gnam #cucinaitaliana #cucinare
After discovering which are the most used food hashtags in the world, let's continue our guide by giving you some tips to break through on Instagram as a food blogger .
FOOD BLOGGER, TIPS FOR SUCCESS ON INSTAGRAM
As we mentioned at the beginning, it is not enough to post photos of everything you cook or eat to have a following on Instagram, there are things to do to be successful, let's see which ones.
1) TAKING QUALITY PHOTOS
The first rule to be successful on Instagram is to publish images with good quality, these will certainly be more appreciated and shared, generating good engagement.
2) PUBLISH RELEVANT CONTENT
It is essential to publish relevant content in your profile, if you have a pizzeria it makes sense to insert photos of pizzas but certainly not those of landscapes, in short, the gallery must tell its own story and you have to do it in consistently.
3) CONSTANT PUBLICATION
You need to have a steady pace in posting that engages your followers, it is counterproductive to post, for example, five photos in a day and then let a lot of time pass before updating your profile again.
4) PUBLISH AT STRATEGIC TIMES
It is very important to choose strategic times to publish content, in particular, to choose those moments when the public is most active on social networks, in this way you will have a better chance of being successful.
5) USE OTHER SOCIAL NETWORKS
In addition to using Instagram, it is advisable to use other social networks to broaden your target audience, Instagram, in fact it gives the possibility to share directly from the platform on Facebook, Twitter, Tumblr and Flickr.
6) PUBLISH OTHER CONTENT ALSO
You don't have to limit yourself to just photos, posting videos, stories and live content allows you to get noticed by a wider audience than your audience of followers.
7) INTERACT WITH OTHER FOLLOWERS
It is certainly one of the keys to being successful on Instagram, maintaining continuous contact with followers, especially with those who have the same interests, so you have to respond to comments and leave them on their profile, stimulate dialogue.
8) EXPLOITING THE POPULARITY OF INFLUENCERS
On Instagram there are some profiles that have thousands and even millions of followers, these are called Influencers and are able to bring visits elsewhere simply by posting targeted content on their profile.
9) LINK A BLOG TO THE INSTAGRAM PROFILE
If you are a food blogger you will probably have your own blog on which to publish content, if you want to be successful and get even more visits you have to link it to your Instagram profile, followers may decide to connect.
10) USE THE RIGHT HASHTAGS
Finally, it is essential to use the right hashtags which are a very powerful way to search and be searched, to have good results you can mix specific and popular hashtags and more generic ones, but it can also be useful create personalized hashtags, which identify your profile and a series of publications.
By following all these tips and using the best hashtags on food, if you are a food blogger you will be able to get good feedback in a short time, of course, remember that the quality of the shots always makes the difference.
Read also:
Instagram Likes, how to increase likes by choosing hashtags righteous
Hashtags Instagram: how to use them better